RELIEF FUND INFORMATION
In 1986, the Federal Employee Education & Assistance Fund (FEEA) was established to provide emergency grants and loans to federal employees affected by a natural disaster. In 1996, NARFE entered into a formal partnership with FEEA to create the NARFE-FEEA Disaster Fund. To make a tax-deductible donation, checks must be made payable to NARFE-FEEA Disaster Fund in order to receive the tax deduction and mailed to: FEEA, 1641 Prince St., Alexandria, VA 22314. To donate see more information below. Then select "NARFE FEEA Relief Fund" or "NARFE FEEA Scholarship Fund" to donate.
SCHOLARSHIP INFORMATION
The NARFE Colorado Federation Scholarship information can also be found on this web site. However, information on the scholarship will not be available until January of each year.
CLICK HERE
for Scholarship donations.
2022 SCHOLARSHIP PROGRAM
The 2022 scholarship application is now available. The deadline for the scholarship is Thursday, March 22, 2022 at 3PM Eastern Time. The competition is open to high school seniors only who are children, grandchildren, or great-grandchildren of NARFE members.
Click here
to access an informational brochure (F-105) containing facts about the NARFE Scholarship Program.
---
Please use the following link to donate to NARFE/FEEA Relief Fund.
click here
We truly appreciate your support of NARFE/FEEA.


FEEA to get new executive director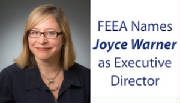 The Federal Employee Education & Assistance Fund has selected a new leader.The board of directors of the organization—which provides federal employees and families with scholarships, emergency assistance and a childcare subsidy program—announced it had chosen nonprofit executive Joyce Warner to succeed Steve Bauer as FEEA executive director. Bauer steps down after 27 years in the position.
Warner currently serves as executive vice president for global programs at IREX, an international education nonprofit. She will assume her new post Oct. 3,
"I am confident that Ms. Warner is the best candidate to continue FEEA's strong record of providing critical financial support to America's dedicated civil servants," said FEEA Board Chairman Robert Tobias. "Ms. Warner's experience designing and implementing organizational strategy, developing education programs, and leading complex non-profit operations will serve the FEEA community in untold and exciting ways"
Warner holds a bachelors degree from the State University of New York at Stony Brook, a masters degree from American University, and an MBA from Virginia Tech.
"Federal employees are America's backbone, and given the opportunity to support those that devote their careers in service to the American taxpayer is truly an honor," Warner said.